AS EASY AS 1-2-3!
Take control of your finances in less than 30 minutes

1
FILL OUT APPLICATION
Click 'Apply Now' to Begin the online application

2
GET APPROVED
A Payday America representative will call you during regular business hours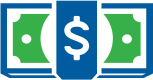 3
RECEIVE LOAN
Get your funds in 15 minutes*
*When you choose the Jelli Prepaid Debit Card.
APPLY NOW
FIND US AROUND THE CORNER
We're more than just an online resource. Find a local Payday America near you!
Loans are subject to Payday America Inc's, terms, conditions and underwriting requirements. Credit approval is not guaranteed and not everyone is eligible for a loan or for a specific amount. Complete disclosure of APR, fees, and payment terms are available upon request by calling 1-866-646-1777 or by visiting a Payday America Inc. store location. This is not an offer to lend and should not be deemed an obligation to do so. Minnesota loans are made under Minnesota Statute Section 47.59. Loans are not available in any other states.