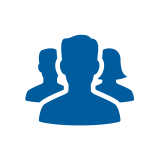 COMMUNITY SUPPORT
Payday America is committed to supporting the local communities where we live and work. Our team members volunteer with the Kids Feeding Kids program, are members of their local Chamber of Commerce, and sponsor the Hennepin County Sheriff Foundation (HCSF). We also work closely with our local law enforcement agencies and have developed a strong relationship with them to protect our community.
KIDS FEEDING KIDS
Many Twin Cities kids who attend local chapters of the Boys & Girls Clubs have to go several hours of the day on an empty stomach. Too often, these kids go hungry.
Payday America and the Boys and Girls Clubs of the Twin Cities co-sponsor Kids Feeding Kids. The purpose is to provide our inner-city youth between the ages of 6 and 18 with nutritious meals and to involve them in cooking and nutrition classes that will prepare them for the future. This program strives to provide yet another opportunity for positive development of our kids.
Kids Feeding Kids is built on the original Kids Café model used in 1994 where members received a free family-style meal four evenings per week and on all school release days during the school year.
In the Fall of 2006, Brad Rixmann of Payday America approached leaders of the Boys & Girls Clubs of the Twin Cities to discuss the possibility of reinstating and reinventing the Kids Café program at the Jack Cornelius Club in South Minneapolis, with the longer-range goal of expanding sites through an ongoing cause-related initiative spearheaded and supported by his company, staff, business associates, and friends.
The sustainability of the program depends on various corporate and private donors annually to play a key role in building and maintaining the Kids Feeding Kids program.
Heart of the City race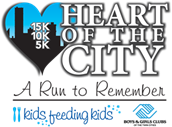 Organized by Pawn America, Payday America and LivInn Hotels, this annual event began in 2012 and transformed into A Run to Remember two years later when one of the event board members, Trish Wehling, lost her daughter, Jordan, in a car accident. Each year over 500 runners and walkers come together for a 15K, 10K and 5K run/walk and kids enjoy a Fun Run to raise money to feed kids. All participants are invited to use the race to celebrate and honor lost friends and family, or just come out to enjoy a fall morning run or walk for incredible prizes and raffles with all proceeds benefiting the Kids Feeding Kids program. For more information on this annual event go to www.hotcrace.org.
HENNEPIN COUNTY SHERIFF FOUNDATION (HCSF)
The Hennepin County Sheriff's Office and Payday America and Pawn America joined forces to launch a new initiative which is an independent, nonprofit, charitable entity dedicated to strengthening public safety through youth-based activity programs, prevention, intervention, education, outreach, and 21st century crime-fighting tools and programs.
Payday America and Pawn America are founding partners of the Hennepin County Sheriff Foundation and specifically sponsor the organization's scholarship program.
CHAMBER OF COMMERCE
Payday America stores have chosen to be an active part of their local community by joining their area Chamber of Commerce. Our stores are dedicated to staying informed about the activities going on in their community, while supporting organizations that promote economic growth and development and impact public policy.