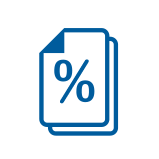 RATES & FEES
Get your loan quickly and for less at Payday America. We conveniently offer loans up to $1,000 — far surpassing the limit of most competitors.
RATES UPFRONT, NO HIDDEN FEES
You'll know the difference as soon as you walk in the door. Payday America offers competitive rates and low fees with NOTHING hidden.
APPLY NOW
Loans are subject to Payday America Inc's, terms, conditions and underwriting requirements. Credit approval is not guaranteed and not everyone is eligible for a loan or for a specific amount. Complete disclosure of APR, fees, and payment terms are available upon request by calling 1-866-646-1777 or by visiting a Payday America Inc. store location. This is not an offer to lend and should not be deemed an obligation to do so. Minnesota loans are made under Minnesota Statute Section 47.59. Loans are not available in any other states.