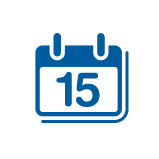 LOANS
Payday America staff members are professionally trained and represent the highest quality standards of our industry to ensure our customer service is second to none. We provide loans that are less expensive and more practical for our guests.
SAFE AND CONFIDENTIAL

MORE FLEXIBLE THAN A TRADITIONAL BANK LOAN

AFFORDABLE — 98% OF ALL LOANS ARE PAID BACK
APPLY NOW
FIND US AROUND THE CORNER
We're more than just an online resource. Find a local Payday America near you!
Loans are subject to Payday America Inc's, terms, conditions and underwriting requirements. Credit approval is not guaranteed and not everyone is eligible for a loan or for a specific amount. Complete disclosure of APR, fees, and payment terms are available upon request by calling 1-866-646-1777 or by visiting a Payday America Inc. store location. This is not an offer to lend and should not be deemed an obligation to do so. Minnesota loans are made under Minnesota Statute Section 47.59. Loans are not available in any other states.